We examine Riyad Mahrez's journey from the French second division to Premier League top goalscorer and the technical scouting that helped make it possible…
They know all about Riyad Mahrez in Leicester. But as a nation scrambles to adjust their fantasy football teams, the Algerian is attracting greater attention than ever. How could he not? He's the Premier League's top goalscorer and his team spent Saturday night on top of the table.
Mahrez has been superb, netting twice in a 4-2 win over Sunderland and scoring what turned out to be the winner against West Ham on Saturday. But it hasn't just been the goals that have captured the imagination.
The 24-year-old also ranks in the top 10 for chances created and dribbles completed. Indeed, given that Mahrez's signing came about with significant input from Leicester's scouting department, those numbers might just be the most intriguing.
Rob Mackenzie, now at Tottenham, was the club's head of technical scouting at the time and tells the story of how the winger found his way to the King Power Stadium, signing an initial three-and-a-half year contract as the Foxes paid Le Havre £350,000 for the winger.
"In January (2014) we identified that we wanted to bring in a wide player," Mackenzie told Sky Sports. "Maybe one who wouldn't necessarily need to hit the ground running but someone who could challenge the guys we already had.
"So we went and looked around the second-tier options in reputable leagues like Spain, France and Germany as well as our own leagues. We also looked at the top divisions in places like Switzerland.
We wanted someone whose contract was expiring in the summer because we thought there might be an opportunity to get them out for a smaller fee and we'd have more bargaining power.
"We were looking for an outstanding player in that league aged between 20 and 22. So we did all the statistical profiling and after the process we were able to sign Riyad Mahrez from Le Havre. He's an example of a statistical process that resulted in a player."
As planned, Mahrez was eased into things in the Championship but played an important role in their title-winning campaign nevertheless, emerging as a fan favourite thanks to an equaliser at rivals Nottingham Forest after Leicester had been reduced to 10 men.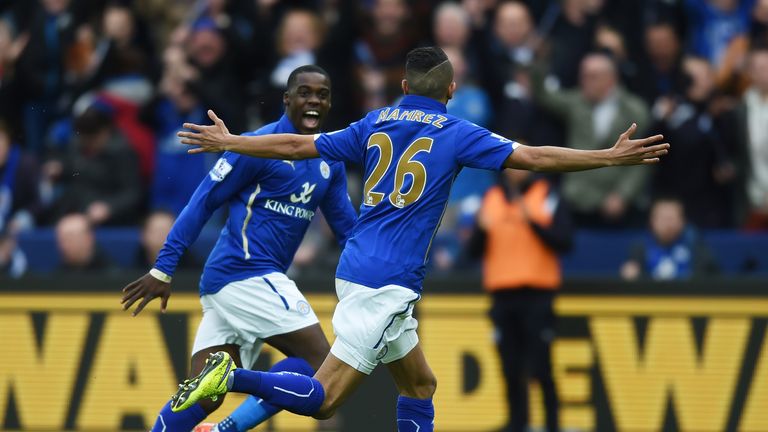 Nigel Pearson was careful to manage his workload. "Riyad has had a very big learning curve in the past 18 months when you consider he joined from a small French club, coming into English football and a big change of culture," he told the Leicester Mercury in May.
"The Championship is not an easy division to settle in, in many ways, especially with the type of player he is. It has been full-on. He hasn't had any breaks. When you consider all those scenarios, I think he has done very well. He is still a young player."
Mahrez had his moments in that first Premier League season, scoring twice against Southampton the very first time his mother came to watch him play in England. In all, there were four goals, three assists and plenty of praise.
However, as you might expect of a player purchased through statistical evidence it requires a deeper look to tease out just what makes Mahrez such a special asset for Leicester. The stats for clear chances created are particularly illuminating.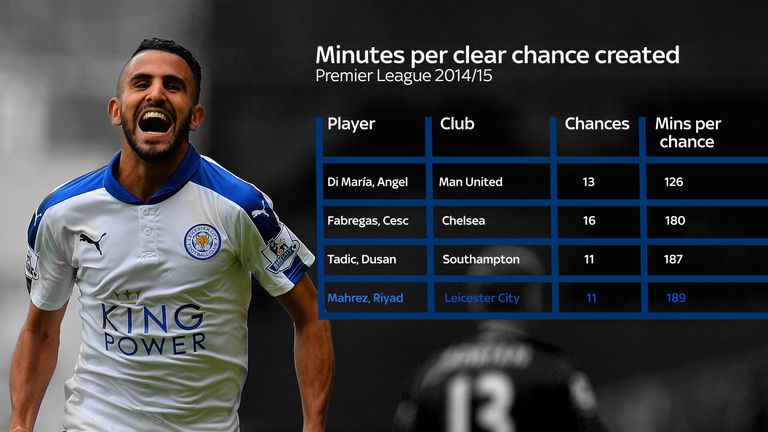 Opta define a clear chance as one that a player might reasonably be expected to score and only three Premier League players – Angel Di Maria, Cesc Fabregas and Dusan Tadic – carved them out more regularly than Mahrez last season.
Some questioned his selfishness in search of a hat-trick on the opening day against Sunderland, but this habit of setting up team-mates for clear openings might help explain his popularity with supporters and colleagues alike.
"He's an exciting player who gets people on the edge of their seats with his creativity and pace," said Leicester goalkeeper Kasper Schmeichel. "He has the quality to create something out of nothing and those are the players every team wants to have.
"He's got very quick feet and he is a very good striker of the ball if given a sight of goal, but most importantly he has a quick mind when it comes to being creative. That can make all the difference."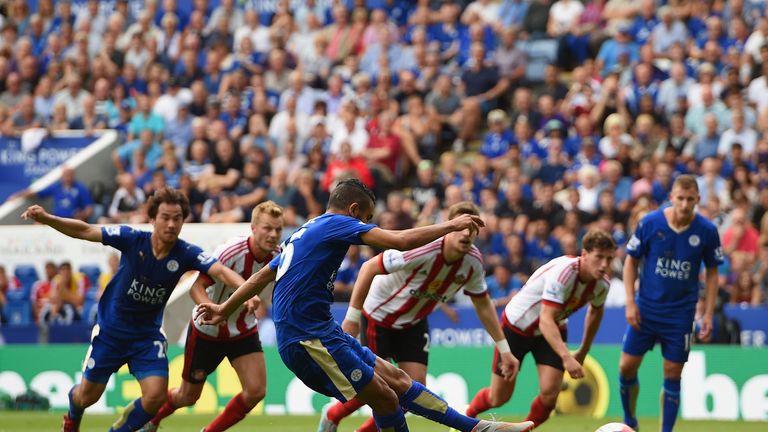 It's not the typical description of a player expected to flourish in a recently promoted side. Graft and toil are the traditional prerequisites for that. And Mahrez still has much to learn. The responsibilities of the wide role can be a challenge.
"He probably gets a bit tired of myself and his team-mates reminding him what he has to do when we haven't got the ball, but that is part of it," said Pearson in the early part of last season as the scale of the task ahead started to become apparent.
"For us to be an effective side, we have to have all our players understand how the team functions. One of the dangers for people like Riyad would be that expectation can climb through the roof if you're not careful.
Expectation levels
"What can go with that, and what's probably not as easy to deal with, is those expectation levels may change. We have to keep an eye on how players develop. He's a young player and he will make mistakes but he will also have a very positive impact."
Perhaps that explains why, after an eight game winless streak, five of Mahrez's last six starts under Pearson came at home with the player eventually finding favour playing with freedom behind two strikers in a 3-4-1-2 formation.
That presented a problem for new manager Claudio Ranieri, a man fond of the 4-4-2 for much of his coaching career. Playing Mahrez on the flank might have seemed a risk but the benefits of getting him in one-on-one situations against a full-back were obvious.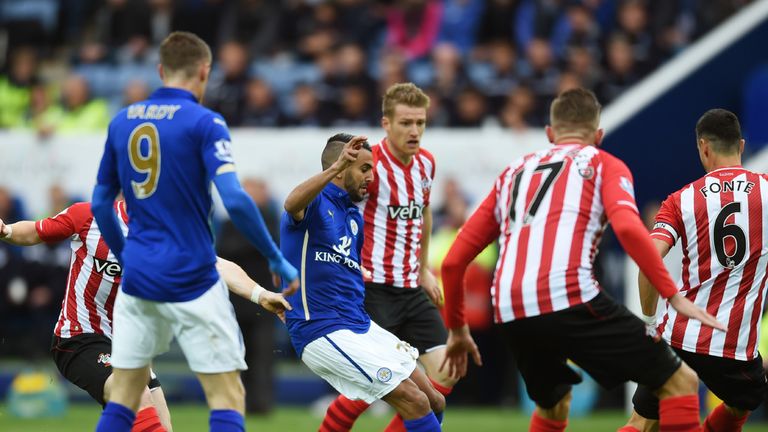 He's a really tricky player in that he feints to go on his left, then his right, then back on his left again.
Sky Sports' Tony Gale on Mahrez
Against West Ham on Saturday, Sky Sports co-commentator Tony Gale was impressed. "He's a really tricky player in that he feints to go on his left, then his right, then back on his left again," said Gale. "He was terrific last season and he's going to get even better."
Identified by the scouts, educated by Pearson and unleashed by Ranieri, Mahrez signed a new four-year deal earlier this month and has now scored five goals in his last five Premier League games. Get him in those fantasy teams. He's worth rather more than £350,000 now.
skysports